For Information or toSchedule Private Sessions by Phone: +1 (505) 577 . 5775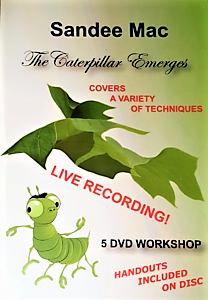 Regular Price: $125 …

SALE Price NOW: $97
What does an ugly, wiggly caterpillar have to do with the magnificent butterfly that emerges from the cocoon a short time later? As a species and as individuals we too are undergoing a massive transformation with a promise of incredible consciousness emerging as a result.
In this intensive one-day workshop recorded live in Canada at the CSD National Convention, Sandee has collected the best of some of the many tools in her toolkit for your own transformational process. All are designed to help you with your own personal metamorphosis and emergence. The entire day is professionally video recorded and the set of 5 DVD's includes over 10 handouts you can download and print out to assist your process.
Sandee covers spiritual principles and such tools as Dr. John Grey's Love Letters technique, Past Life Resolution, manifestation principles, exercises to increase your focus and intention & open the third eye, a three day detox diet, dowsing, clearing negativity, muscle testing, self-evaluation, an introduction to Dr Nelson's Emotion Code, and so much more.
With this set of remarkable tools for personal growth… demonstrated with a live audience… everyone can emerge from their own cocoon, a magnificent expression of their own Highest Divine Blueprint. Take advantage of this now for your own personal metamorphosis as well as to teach and share with others.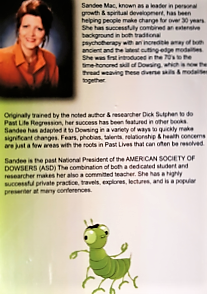 These and Other Dowsing and Healing Tools Are Available through Sandee Mac at a
Special Price for her Clients & Supporters. Call or Email her for details.