Be There! Sandee Mac Events
Schedule Private Sessions by Phone: +1 (505) 577 . 5775

2020 Events Schedule:
TUESDAY - March 17 - THURSDAY - March 26
THE VILLAGES - Florida
March 18 Lecture
DOWSERS UNLIMITED MEETING,
"Dowsing Your New ... BFF (Best Friend Forever)"
Wednesday - March 18, 4 PM
401 E. Gulf Atlantic Highway, Wildwood, FL 34785, Post 18
4 workshops and Trunk Show.
Call Karen for information (352) 753-0622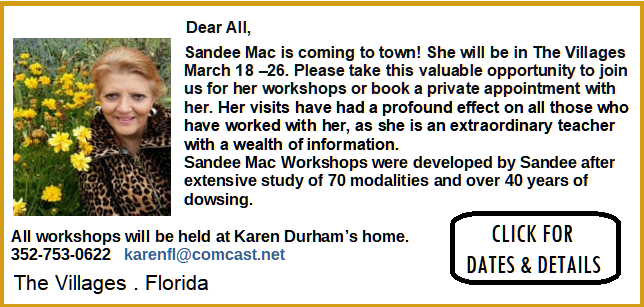 PAY FOR YOUR CLASS:
Fill out the registration form, then make your payment below with the donate button for the amount of your class:
Available Classes & Seminars - Schedule Yours Now!
Old and New Dowsing Tools and How to Apply Them to Old and New Problems by Sandee Mac, Master Dowser and Metaphysician.
Sandee Mac is a master at using her considerable personal power of intent and the dowsing system to discover and adjust things in our lives that we want to change for the better, whether it's our state of health, wealth or happiness. You can be a deviceless dowser and use the body's own natural ability to respond to questions and other stimuli or you can use any number of dowsing tools. The point is to practice dowsing everyday to increase your effectiveness in taking the responsibility of making your life greater, easier, safer, and more fulfilling. Sandee will introduce some new energy tools (Slim Spurling rings, aura meters and more) for dowsers who want to go to the next level. It's amazing what you can do with these tools to protect yourself and family from extreme weather or the new 5G technology, for example. She will also demonstrate many of the tried and true dowsing tools such as pendulums, L-rods, and bobbers - and show how to clear harmful energies in your environment and in your own energy system, get rid of allergies, and much more!
Q&A and Trunk Show Fun & Exciting Evening with Sandee!
This is a great time to spend with Sandee in a relaxed environment. She will select people to demonstrate her vast combination of health and dowsing tools & techniques. It's also a great chance to learn about and purchase all the cool gadgets and tools that Sandee offers to make our lives easier!
Basic Dowsing Workshop
Are you ready to learn the ancient, yet timeless, art of dowsing? Far more than just "witching" for water, these are time-honored skills for discerning information not ordinarily available with the five senses. In these two remarkable days you will learn how to dowse for the best vitamins and supplements for your health; find answers to relationship and financial questions: learn how to identify geopathic zones and negative energies which can be affecting your home or place of employment, and MUCH, MUCH MORE!!! As always, there will be lots of handouts and hands-on experience. (Returning students can take the workshop for ½ price!)
Time Travel & How to Clear Past Lives
In this class, we will identify past lives which may be harmfully affecting us in our current life. Maybe we experienced a challenging situation or had limiting beliefs which we are still carrying with us. We will travel back in time and clear these energies so that we can lead happier, more fulfilling lives!
NEW CLASS! Ancestors: They Hold the Key!
We are all part of a great lineage and carry parts of our ancestors with us. If they had a happy, joyful life and lived in grandeur, or if they were sad and depressed and lived in catastrophic times, both of these energies can affect us in our current lives. Using dowsing techniques, we will learn to clear harmful ancestral energies which can have a deep and lasting effect on us, even on a DNA level! This is a very experiential workshop where you will learn techniques to clear these energies.
To make an appointment or set up a class for Sandee, click the contact button and send an email: